BREAKFAST
DAILY FROM 7AM – 10 AM
2 pieces Pistolet Bread with The Fruit Garden Jam, Butter Hot Coffee, Tea or Chocolate
2 Big Butter Croissants with The Fruit Garden Jam & Butter Hot Coffee, Tea or Chocolate
Mushroom, Tomato, Ham and Cheese with Pistolet Bread. Hot Coffee, Tea or Chocolate
Your choice of Ham or Bacon, Hash Brown Potato or Garlic Rice, Provencale Tomato, Pistolet Bread, Coffe, Tea or Chocolate
with Fresh Seasonal Fruits
Corned Beef with Smothered Onions
Fried Egg, Proyencale Tomato with Hash Brown Potatoes or Garlic Rice
Skinless, crispy Chorizo Sausage with Garlic Rice and Fried Egg, sliced Tomato & Onions, Chili Vinegar
Pistolet with Spinach, Ham, Herb Butter Cream Sauce & Proyengale Tomato, Hot Coffee, Tea or Chocolate
Maple Syrup or Jam Hot Coffee, Tea or Chocolate
with Banana and Swiss Chocolate Sauce  Hot Coffee, Tea or Chocolate
Seasonal Fresh Fruit Cocktail
Healthy
Fried Egg, Proyengale Tomato with Hash Brown Potatoes or Garlic Rice
Sliced, marinated tender Beef tips with a really toasted Garlic Rice, Herb Tomato and a Fried Egg
Bacon, Nuernberger Sausage 2 Fried Eggs, Hash Brown Potato, Provencale Tomato & Pistolet Bread Coffee, Tea or Chocolate
Rosti "Power"
Hash brown topped with ham, topped with mushrooms, then baked with raclette cheese and finaly topped with a fried egg and then drizzled with trufle oil !
P 445
Beverages
Cappuccino, Cafe Latte, Espresso, Mocha, Tea, Hot or Cold Chocolate  ———————————————— P 95
Freshly pressed Orange juice   ——————————————————————————————————— P 210
Mango, Apple, Calamansi, Orange juice   ——————————————————————————————- P 115
Our bakery products are freshly baked upon your order !
Butter Croissant ———————————————————————————————————————— P 65
Chocolate Butter Roll——————————————————————————————————————- P 78
Pistolet ( 2 French Small Baguette) ————————————————————————————————— P 60
The Fruit Gardens Jam & Butter —————————————————————————————————— P 66
APPETIZER
PACIFIC OYSTERS (6 pieces)
with lemon
Mornay (baked with chesses sauce)
with Mignonette (shallot vinaigrette)
mushroom with truffle oil
tomato, olive & chorizo salad
caramelized onion with goat cheese and basilica glaze
BEER BATTER FRIED OYSTERS
in beer batter with spicy Cocktail sauce and Lumpfish Caviar on a cirys fruit – vegetable bed
It Melts In Your Mouth "V"
Hot deep fried Brie Cheese Wedges in crispy Bread Crust
on Cumberland Sauce & dried Cranberries
our signature fries tossed in truffle oil
HOT SWISS RACLETTE CHEESE CANAPES
2 with ham & pineapple, 2 with mushroom & choriz and 2 with curry tomato confit
with green herb sauce and melba toast
Puff pastry with smothered onions, anchovies, olives & Gruyere cheese
TASTY HOT OCTOPUS WITH GARLIC
Olive Oil, Olives, Shallots & Lemon
Swiss Mountain Tilsiter cheese and dried chorizo (perfect rendezvous with your red wine)
crispy filo pastry triangles stuffed with spinach and Swiss cream cheese
in salsa of tomato, chili & curry
marinated, sautéed and spiced up!
12 French Bourgignonne Snails, Baked with Cafe de Paris Butter
NOTE:
"V" = Vegetarian
All prices are VAT inclusive but subject to 10% service charge
ENTREE
SOUP
SALAD
with Gruyere cheese croutons
OUR BIG "ADLEZ" NICOISE SALAD
soft boiled egg, grilled zucchini, tomato, potato, cucumber, olives, anchovies, on mix greens toasted in white wine – Dijon mustard dressing and drizzled with lemon and olive oil
with salmon
with grilled chicken breast
with signature dressing and sparkled with walnuts
Mussels, Shrimps, Octopus & Salmon tossed in a refreshing Mediterranean Couscous Salad with roasted Garlic
Mixed green salad with caramelized walnut, apple, celery & blue cheese drizzled with honey-Dijon mustard dressing
 Rougié DUCK LIVER SPECIAL
Silky creamy foie gras mousse fruit compote & melba toast
on roasted potatoes with caramelized onions and drizzled with calamansi and berry glaze
Spaghetti No 4,Ham & Mushroom a Foie Gras Cream Sauce and a drizzle of Truffle Oil
MAIN DISHES
CHICKE – RIA
grilled succulent chicken breast topped with SECRET HERB BUTTER sauce, fresh fries & mixed green salad tossed in our house dressing with walnuts
JUICY 7oz ANGUS BEEF BURGER
with caramelized onions, Swiss cheese, tomato, lettuce & fresh fries
with onion red wine sauce & fresh fries
CRISP FRENCH DUCK LEG CONFIT
with roasted Boulangère Potatoes, and Orange Chutney
John Dorry filet in crunchy beer batter with fresh fries, house salad & tartar sauce
Grilled Pork Rib-Eye Steak 10oz.
in Lemon – Pepper crust on roasted Boulangère Potatoes & Calvados Apple
MOULES FRITES
1/2 kg steamed imported mussels with white wine, shallots, garlic, & parsley, fresh fries
PORK TENDER LAMB SHANK
in Provenical Crust, Dijon Red Wine Sauce, Fried Potatoes with smothered Onions and House Salad.
SPAGHETTI No 4
RISOTTO SPECIALS
ST.TROPEZ
olives, capers, mushroom, garlic, tarragon, cherry tomatoes all toasted in lemon – olive oil and spiced up with a bit of chili butter
with shrimp
with salmon
with sliced beef in zesty paprika sauce tossed with mushroom, gherkins, onion and topped with sour cream
Mussels, Shrimps & Octopus in a rich Garlic tasty Tomato Sauce
on lemon flavored risotto with chorizo, sherry tomato, lettuce and herb aioli sause
SAFFRON RISOTTO Argenteuil "V"
Cheesy Parmesan Saffron Risotto with green Asparagus
grilled served on cream blue cheese risotto with spinach & complemented with a sweet and spicy tomato chutney
STEAKS
The L'entrecote Steak
mixed green salad tossed in our house dressing with walnuts, US Choice Sirloin Steak 7oz topped with our Secret Herb Butter Sauce & unlimited fresh fries

l'entrecate "Double"
Certifies US Angis Sirloin Steak 12oz topped with our Secret Herb Butter Sauce, unlimited  fresh fries and fixed green salad tossed in house dressing with walnut.
CERTIFIED US ANGUS TENDERLOIN 6 oz
Perhaps as Steak Tartar with fries or melba toast
CERTIFIED US ANGUS RIB EYE STEAK 8 oz
CERTIFIED US ANGUS RIB EYE STEAK 12 oz
CERTIFIED US ANGUS TOMAHAWK RIB BONE STEAK 21 oz
P 2,060
P 1,580
P 2,380
P 3,590
La Brochette Flambee 12 oz
US Certified Black Angus Sirlion
Good for 2-3 Persons
---
• Included one choice of siding and sauce •
Sidings: l'entrecote fresh fries | Mashed Potatoes | Baked Potato | Garlic Rice | Sautéed Spinach | House Salad
Sauce: Secret Herb Butter Sauce | Chili-lemon Butter | Mushroom Red Wine Sauce | Dijon Mustard | Lemon-butter | Spicy Green Peppercorn Butter | English Mustard | Additional P 130 each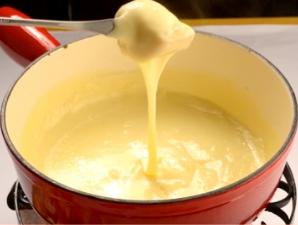 THE ORIGINAL
SWISS CHEESE FONDUE
Hot melted Swiss cheese with Kirsch liqueur on the side
Good for 2 person — P 1'660
Choise of Side
L'Entrecote hand – cut Fries, Mashed Potato, Bake Potato, Garlic Rice, Sauteed Spinach, or House Salad
Choice of Sauce
Secret Herb Butter Sauce, Chili-Lemon Butter, Mushroom Red Wine Sauce, Dijon Mustard, Green Peppercorn Butter, or English Mustard
"In victory, you deserve champagne. In defeat, you need it."
Napoleon Bonaparte-
Cordorniu Classico Seco D.O Cava, Spain NV Macabeo/ Xaraello/ Parellada
WINES
" A meal without a glass of wine is like a day without sunshine "
White Wines
Callaway Cellar Selection,2016, California, USA – Chardonnay
Light Bodied and refreshing wine which is rich with aromas of honey, pears, citrus and herbs which are lifted by a hint of candied ginger.
Pairing Suggestion: Chicken, Fish, Oysters
Chateua La Graviere, 2016, Bordeaux, France
– Semillon/ Sauvignon Blanc/ Muscadelle
Full bodied and full of life! The nose is floral and fruity, with hints of white flowers, apple and
lemon aromas. Straightforward, fresh and light, with a very pleasant ending… Really charming!
Pairing Suggestion: Shrimps, Moules, Salmon
Red Wines
Chateau Cap de Fer Bordeaux Superieur, 2016, France
– Merlot/ Cabernet Sauvignon/ Cabernet Franc
Light bodied in color and character, but, oh, so easy to sip! Soft whiffs of toast are served up with red berries, black currants and plums covered blueberries. Added are soft spice & vanilla bean.
This wine is made for never ending drinking!
Pairing Suggestion: Burger, Pasta, Risotto
Septima 2014, Mendoza Valley, Argentina – Cabernet Sauvignon
A complex full bodied wine with a spicy kick plus vanilla a toasted note.
A pleasure to enjoy with friends in any moment of the day!
Pairing Suggestion: Meats & Cheeses
Vina Pomal Crianza 2014, Rioja- Alta, Spain – Tempranillo
Full bodied complex wine with cherry color with high intensity of flowers, red fruit and black licorice. Smooth, balanced and soft tannins.
Pairing Suggestion: Entrecote & Prime Steaks
House Red or White Wine per glass Php 200 | per carafe 500mL P590 | bottle P 895
All price are VAT inclusive but 10% is added for Service Charge
" Every box of raisins is a tragic lose of grapes that could have been wine "
Chateau Bouteilley 2014, Premieres Cotes de Bordeaux, France
Cabernet Sauvignon / Merlot
Nederburg 2014, Winemaster's Reserve, South Africa
Cabernet Sauvignon / Merlot
Barossa Tower 2012, Chateau Tanunda, Australia
shiraz
Bodega Septima 2014, Mendoza, Argentina
Malbec
Wine Spectator Rate: 89Pts
Saint Jacques de Siran 2012, Bordeaux, France
Merlot / Cabernet Sauvignon
Lys de Chateau Bouteilley 2010, Cotes de Bordeaux, France
Cabernet Sauvignon / Merlot
Chateau Cap de Fer 2014, Bordeaux Superieur, France
Bordeaux Blend
Medaille d'Or, Paris 2014
Tesa la Monja Romanico 2014, Toro, Spain
Tinto de Toro
Robert Parker: 9iPts
Vina Ventisquero 2012, Grey, Maipo Valley, Chile
Carmenere
Gold Medal: Mundus Vini
Grand Barossa 2011, Chateau Tanunda, Australia
Cabernet Sauvignon
Wine Spectator Rate: 9oPts
Bread and Butter 2014, California, USA
PinotNoir
Clarendelle 2009 inspired by Haut Brion, Bordeaux, France
Bordeaux Blend
Vina Pomal Reserva 2013, Rioja, Spain
Tempranillo
Wine Spectator Rate: 88Pts
Chateau Simard 2009, Saint Emilion Grand Cru, France
Merlot / Cabernet Franc
Robert Parker: 9iPts
Bordeaux Blend
Mouton Cadet 2012, Bordeaux, Baron Philippe de Rothschild, France
Scala Dei Prior 2012, Priorat, Spain
Cabernet Sauvignon / Grenache / Syrah
Wine Spectator Rate: 92Pts
Chateau Mongravey 2012 Cru Bourgeois, Margaux, France
Bordeaux Blend
" Men are like wine – some turn to vinegar, but the best improve with age "
Banfi 2013, Col di Sasso, Tuscany, Italy
Cabernet Sauvignon /Sangiovese
Gerard Bertrand 2013, "R.S.", IGP Pays d'Oc, France
Pinot noir
Chianti Riserva 2012, DOCG, Piccini, Italy
Sangiovese
Château Roubine 2014, Cotes de Provence, France
Syrah / Cabernet Sauvignon / Grenache
Laforet 2013, Joseph Drouhin, Burgundy, France
Pinot Noir
Allan Scott 2013, Marlborough, New Zealand
Pinot noir
Suave Dark Full Bodied Red
" Life is short to drink bad wine! "
Lookout 2014, Leopard's Leap, South Africa
Cabernet sauvignon / Shiraz / Cinsault
Rib Shack Red 2014, Vintage Blend, South Africa
Pinotage / Shiraz
Mon Seul Reve 2012, Bernard Magrez, France
Syrah / Grenache noir / Carignan
Warwick Three Cape Ladies 2012, Stellenbosch, South Africa
Pinotage / Cabernet Sauvignon / Syrah
Tedeschi Corasco 2010, Veneto, Italy
Corvina / Refosco / Raboso
Cepa 212014, Ribera del Duero, Spain
Tinto fino
Wine Spectator Rate: 89ts
Cotes Du Rhone 2012, E. Guigal, France
Grenache / Syrah / Mourvedre
Trio Rojo 2004, Grand Reserva, Casa Rojo, Spain
Syrah / Tempranillo / Cabernet Sauvignon
Angus, The Bull 2013, Central Victoria, Australia
Cabernet Sauvignon
Wine Spectator Rate: 91 Pts
Layer Cake 2012, Barrossa Valley, Australia
Shiraz
Wine Spectator Rate: 88 Pts
Château Neuf Du Pape 2013, Ferraton Pere & Fils France
Grenache / Syrah / Mourvedre
Robert Parker: 93 Pts
Explore fine Bordeaux Wines to great prices!
"Making good wine is a skill. Fine wine is an art."
-Robert Mondavi-
Château La Rousseliere, Saint Estephe, France – Cabernet Sauvignon / Merlot
2010
This beautiful discovery wine gives you inky purple color and a stunning nose of spring flowers, blueberry and blackberry fruit as well as touches of incense and graphite.
Wine style: Rich & Elegant
Château de Candale, Saint Emilion, France – Merlot / Cabernet sauvignon
2010
This exquisite Saint Emilion represents the terroir of this medieval village and offer you a dense ruby/purple to the rim with extraordinary notes of flowers, figs and black raspberries and
blueberries. Brilliant!
Wine style: Round & Fruity
Cloitre de Grand Puy Ducasse, Pauillac, France – Cabernet Sauvignon/Merlot
2010
From an outstanding vintage, this second label of Chateau Grand Puy Ducasse (5th classified growth) offer you a dark currant and blackberry coulis core, singed savory and light coffee notes.
Wine style: Big & Bold
Croix de Boyd Cantenac, Margaux, France – Merlot / Cabernet Sauvignon / Petit Verdot
2010
This 3rd classified growth offers a generous bouquet dominated by lightly smoky vanilla notes and forest fruits: cherry and blueberry.The tannins are supple and very silky, giving a structured, balanced 2010 vintage.
Wine style: Structured & Silky
Engagable Sweet Young & Fruity Whites
"When choosing between two evils, I always like to try the one I've never tried before."
Mae West—
Beach House 2015, Douglas Green, South Africa
sauvignon Blanc / Semillon
Parducci 2013, California, USA
Sauvignon Blanc
Allan Scott 2015, Marlborough, New Zealand
pinot Gris
Ampelidae Le S 2008, Loire Valley, France
Sauvignon Blanc / Sauvignon Rose
Wine Spectator Rate: 88Pts
"Age is just a number.
It's totally irrelevant unless, of course, you happen to be a bottle of wine."
-Joan Collins—
Wild Rock Pania 2013, Hawke's Bay, New Zealand
Chardonnay
Gerard Bertrand 2012, "R.S.", Pays d'Oc, France
Chardonnay
Scott Base 2010, Central Otago, New Zealand
Chardonnay
Crisp Clean Dry Yet Wet Whites
"I enjoy a glass of wine each night for it's health benefit.
The other glasses are for my witty comebacks and flawless dance moves."
Jean Guillot 2014, Bordeaux, France
sauvignon Blanc
Chasselas Romand 2014, Vin de Pays, Switzerland
chasselas
Château Bonnet 2014, Bordeaux, France
Sauvignon Blanc / Semillon / Muscadelle
Cotes Du Rhone 2012, E. Guigal, France
Bourboulenc / Clairette / Rousanne / Viognier
Robert Parker: 89Pts
Clarendelle 2014, inspired by Haut Brion, Bordeaux, France
Sauvignon Blanc / Semillon / Muscadelle
Wine Spectator Rate: 9oPts
Allan Scott 2014, Marlborough, New Zealand – sauvignon
Blanc
Wine Spectator Rate: 9oPts
Pouilly Fuisse 2014, Joseph Drouhin, Burgundy, France
Chardonnay
Wine Spectator Rate: 88ts
"When I read about the evils of drinking, I gave up reading"
Oeil de Perdrix 2013, Switzerland
Pinot Noir
Château Roubine 2014, Provence, France
Cinsault / Grenache / Cabernet Sauvignon
All prices are VAT inclusive but 10% is added for Service Charge